On October 2 2011 The Healing Barn hosted its first Adoption Day Event along with the Wood County Humane Society.  We are very pleased to announce it was a great success!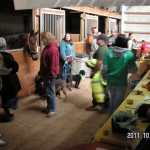 People from all over came to show their support, many people came to bid on some of the wonderful prizes we had donated and others were there to meet the available horses and dogs.
The day included raffle ticket and silent auction items, food, horses, dogs as well as a fun kids activity table.  Several children enjoyed the day with drawings and paintings!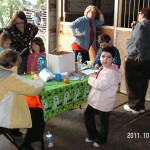 The available horses were also ridden and shown for our guests.  While we didn't find forever homes for the available horses that day, we raised money to help support our rescues, and had an overwhelming amount of support from our community!
We greatly appreciated all the support from our sponsors, friends, and the community.
Our plan is to host an Adoption Event or an event similar in years to come.