The BOSS at the Barn!
My name is Little Bit and I am the BIG BOSS at The Healing Barn!  I am 16 hands tall and registered as a stock paint horse.  I do not have markings of a paint like my girlfriend Fancy, but my body looks like some one took a white paint brush and splattered it on my copper colored hair.  When I first came to The Healing Barn, I was falling down and I was very sick.  I had what they call EPM.  All I know is it was not fun to have no control over my rear end.  I would try to run and my butt would fall down.  It made me feel really stupid.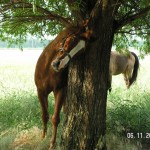 My job, as you know, is to protect the herd and all I could do was fall.  My owner wanted to donate me to Ohio State to be experimented on:(  When Nancy at The Healing Barn heard about me she called my owner and talked her into donating me to The Healing Barn.
Now I am the leader of all the horses, and of course all the girls love me.  They all think, "I am all that" and you know, "I am all that, I am beautiful."   I do not fall down and I am not sick anymore.  Thank the Lord, he put me in a good place.
Love ~ Bit