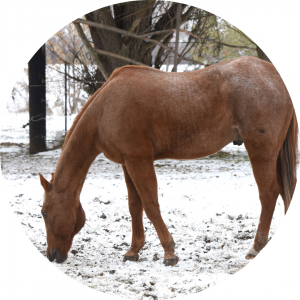 MEET BIT
Falling down and having a hard time keeping his feet under him, Bit came to The Healing Barn when there was nowhere else to turn. In 1999 Bit was diagnosed with EPM (a neurological disease in horses) around that same time his owner was diagnosed with cancer. Choices for treatment at that time were very limited and incredibly expensive, so his owner while she would be facing her own uphill battle, asked for our help.
Bit has been treated and maintained on all natural herbs and supplements to help keep him mobile and healthy! He's been rideable for years and has served many hearts under lease since then. While he is healthy and the head of the herd Bit is aging and requires his continued daily support for his EPM as well as more geriatric care these days.
Bit's monthly care is $400.  Simply click the cart button below to help contribute to Bit's monthly care.