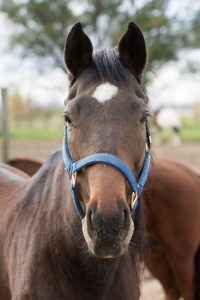 MEET GEORGE
George is by far one of the worst neglect cases we have ever encountered in 25+ years of rescuing. When we first learned about George he was still wearing a yearling halter (for 1 year old horses) as a growing 2 year old stud colt. You can imagine much like a dog collar becomes embedded, his face was literally growing around the halter and was severely infected in gangrene.
With proper veterinarian attention, supplements, daily care and a lot of love, George has completely healed. Unfortunately because of the mental stress George endured during those first two years of his life he is not rideable or adoptable at this time. However, George is one of the friendliest horses in the herd and loves to be brushed & hand walked!
George's monthly care is $300. 
---
Below are some pictures of George's infection and a couple more recent to show he is a very healthy happy guy!