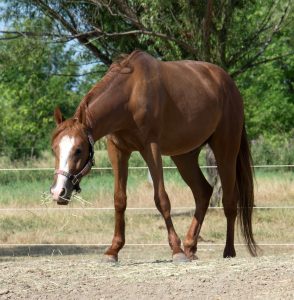 MEET LARK
Lark was quite possibly on the brink of dying when we learned about him. As a young 3 year old stud who had been severely malnourished and was battling a terrible infection in his penis for quite some time he had a very long road of recovery ahead of him.
Knowing he was in pretty bad shape before we went to see him we did take a vet with us to assess his condition, she immediately started him on a round of antibiotics and we brought Lark home within a couple days.
Since then Lark has put on some healthy weight, is catching up in growing, has been gelded and is currently in training. While we did give him several months to recover and get some healthy weight on, this boy has truly blossomed and is doing really great in his riding session with barn manager, Corri Mayo. Lark is on supplements to nourish healthy growth as well as chiropractic care as needed during growth & recovery.
Lark's monthly care is $400.  Simply click the cart button below to help contribute to Lark's care.
---