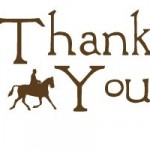 The Healing Barn would like to acknowledge and send a big Thank You to the following supporters!!  Without your support we would not be able to do what we do!  THANK YOU!
~  Thank you to the Ohio Animal Coalition for the grant funding, this funding is very helpful and allows us to continuing helping equine friends in need!
~  Thank you Ms. Tina Bunce, your monthly contribution is much needed as well as appreciated!  You have also been a great help with helping to find home for our rescues.
~  Thank you to Gale Bishop for your support and sponsorship of Baby Jack!
~  Thank you to Sally Keller and Barb Grummel for collecting donations at your office!!
~  Thank you Renate for helping with Donkey Jack!